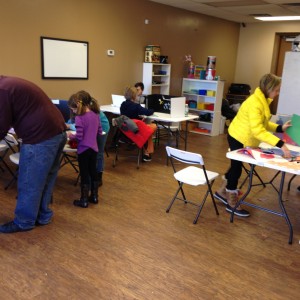 Welcome to Digistars Make-a-Movie Workshop Ltd.!

We are one of the only filmmaking programs in the country focused on elementary-and-middle-school-aged kids because we know that not only can they grasp the concepts of digital storytelling, but kids LOVE making movies!
Our robust curriculum has been honed to provide a quality experience learning real-world skills that carry over into both the academic and professional realms. Filmmaking integrates the arts with technology, and storytelling demands structure while allowing for unlimited creativity of expression. It's a perfect match for the under-14 set!

Guided by our professionally-trained and fingerprinted/background-checked staff of stellar instructors, our programs are hands-on and kid-driven. We provide all of the craft materials, costumes, and technology to allow the creativity to flow freely and to result in a movie to be saved and cherished.
Our Mission
Our number one goal is to HAVE FUN! Beyond that, we want to help kids learn how to tell a coherent story in their movies (digital storytelling!). Ssshhh: students learn real-world skills without realizing they are in a learning environment.
What Ages Can Participate in a Digistars Program?
We've designed our programs to work with elementary and middle-school students. Digistars stop motion animation (Claymation TM) programs are open to students going into grades 1 through 8, and our live action filmmaking programs are open to students going into grades 4 through 8.

Where are Digistars Programs Hosted?
Digistars programs occur either at our studio in central Denver or in a host school. Contact us to bring a Digistars program into your school!
How Did the Digistars Program Start?
The Digistars Make-a-Movie Workshop has its roots in a program originally developed out of a grant to integrate Science and Technology with the Arts (a StART grant from Colorado Creative Industries, formerly the Colorado Council for the Arts) in Polaris@Ebert Elementary School in downtown Denver. Polaris@Ebert is a magnet school for gifted and talented students in grades 1-5 in the Denver Public School district.
In 2012, Digistars CEO Elizabeth Yarnell and co-founder Metro State College Professor of Film Vincent Piturro, PhD, were tasked with administering the grant monies at the school and continuing the goals of the StART program. Elizabeth and Vinnie designed the Polaris Film Project to fulfill the StART mission by integrating science and arts with technology through digital storytelling.
The Digistars copyrighted curriculum and approach to teaching young filmmakers incoporates creativity with technology to produce digital masterpieces.
Hear from a Digistars parent!
Become a DIGISTAR!
Register your child for a magical week of moviemaking camp! Camps run June through August.