Stop Motion Animation
Bring your story to life in clay!
Kids are only limited by their imaginations in a stop motion animation (Claymation) program! A magical rainbow unicorn? A talking ice cream cone? An army of dolphins? These are all characters brought to life by kids in previous Digistars programs!
We watch and analyze animations to learn the elements of storytelling, and then map out our stories before molding characters and decorating the sets. Finally, we film and edit our movies into masterpieces!
Documentary Filmmaking
In a Documentary Filmmaking after-school program, kids explore a topic of their choosing and make a Ken Burns-style documentary movie about it.
From the history of Marvel Comics to the Pokemon craze to how GPS caching works… the possibilities are limitless.
Rated F for FUN!
ESPRESSO_EVENTS_TABLE_TEMPLATE
Download the After-School flyer here.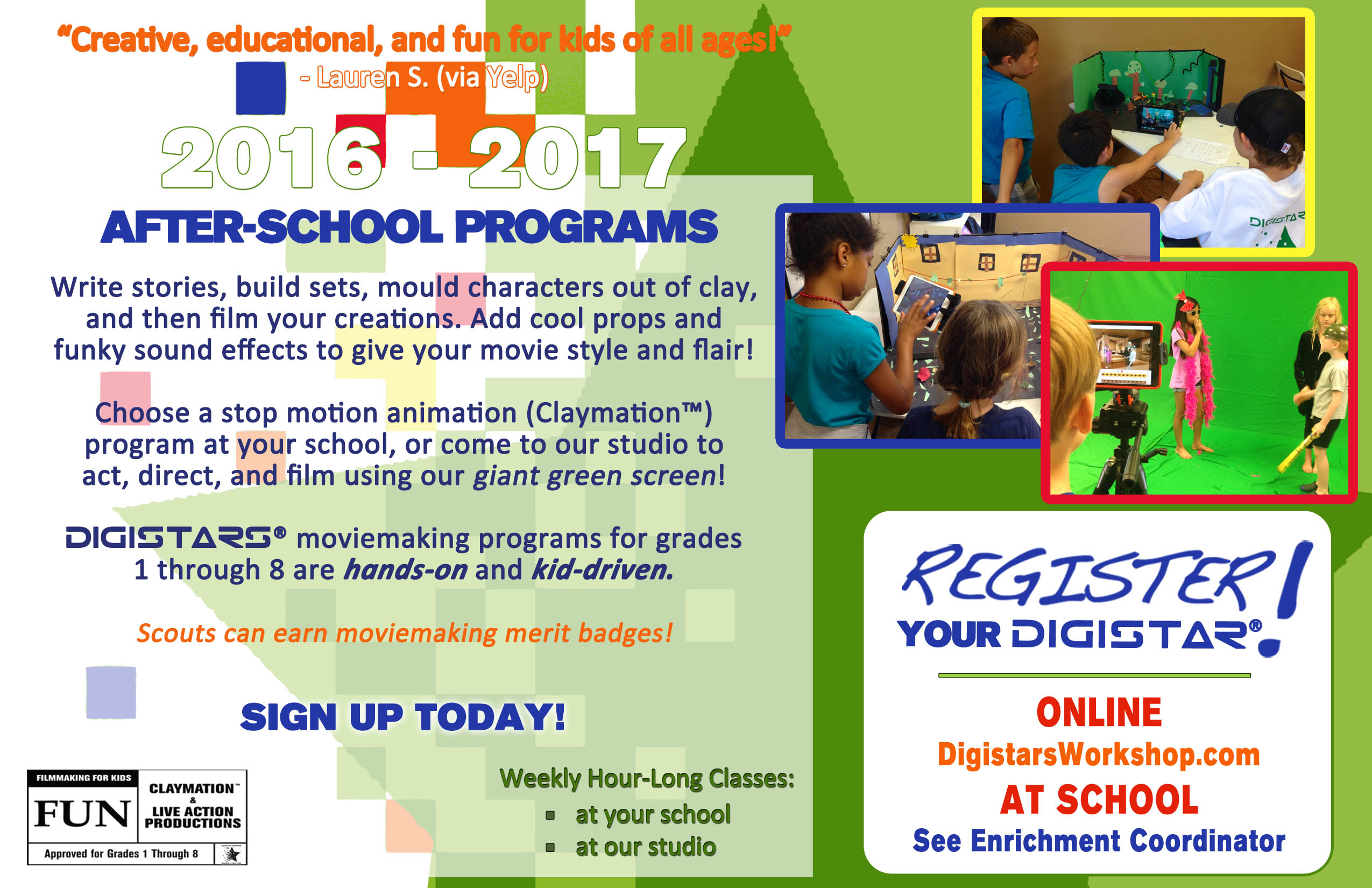 After-School
Enroll in an after-school enrichment program!
At your School!
Digistars offers after-school programs in many schools aroung metro Denver. We work with individual schools to tailor our program around their after-school schedule. Our programs last for approximately one hour at weekly sessions lasting from seven to twelve weeks.
Our trained and fingerprinted instructors arrive with their infectious passion for movies and filmmaking. They carry all the materials and technology needed to create moviemaking magic with stop motion animation. Students need only to arrive with a smile and ready to have fun!
Sign up through your school's after-school enrichment coordinator, at the link provided in your school's e-newsletter, or register directly on our REGISTER page by locating the starting date of your program. Where you register is determined by the school's enrichment coordinator. Sessions indicating a $0 fee use alternative registration methods.
If you would like to see a Digistars program at your elementary or middle school, please Contact Us and let us know.
Search:
Event
Venue
Date
Claymation - Isabella Bird Spring 2018 1-5

Isabella Bird Community School

February 27, 2018 3:00 pm

Sold Out
Park Hill Elementary Spring 2018

Park Hill Elementary

February 28, 2018 2:45 pm

Sold Out
Documentary - KIPP Sunshine Peak spring 2018

KIPP Sunshine Peak Academy

February 28, 2018 4:05 pm

Register
Claymation - KIPP Sunshine Peak spring 2018

KIPP Sunshine Peak Academy

Register
Claymation Vacation Day Camp 4/2/18

Mile High Youth Corps

Register
Claymation - McKinley Thatcher (Spring)

McKinley-Thatcher Elementary

Sold Out
June Claymation Camp 2018

Mile High Youth Corps

Register
June Boulder Claymation Camp 2018

Mackintosh Academy

Register
June Summer Camp 2018: Live Action

Mile High Youth Corps

Register
July Claymation Camp 2018

Mile High Youth Corps

Register
July Summer Camp 2018: Live Action

Mile High Youth Corps

Register
August Claymation Camp 2018

Mile High Youth Corps

Register